UK Investors
Yorkshire Property Deals Ltd will ensure that you are provided with the most appropriate deal. However it is essential that you are aware of the process of buying a house and the various charges involved, which are payable to your solicitor and mortgage advisor.
Please go through these links to understand the procedures involved in buying a property in England:
http://www.rightmove.co.uk/ps/pdf/p/propertyguide/Buying_guide_full.pdf
http://www.adviceguide.org.uk/index/family_parent/housing/buying_a_home.htm
If you have any doubts, please do not hesitate to contact info@yorkshirepropertydeals.com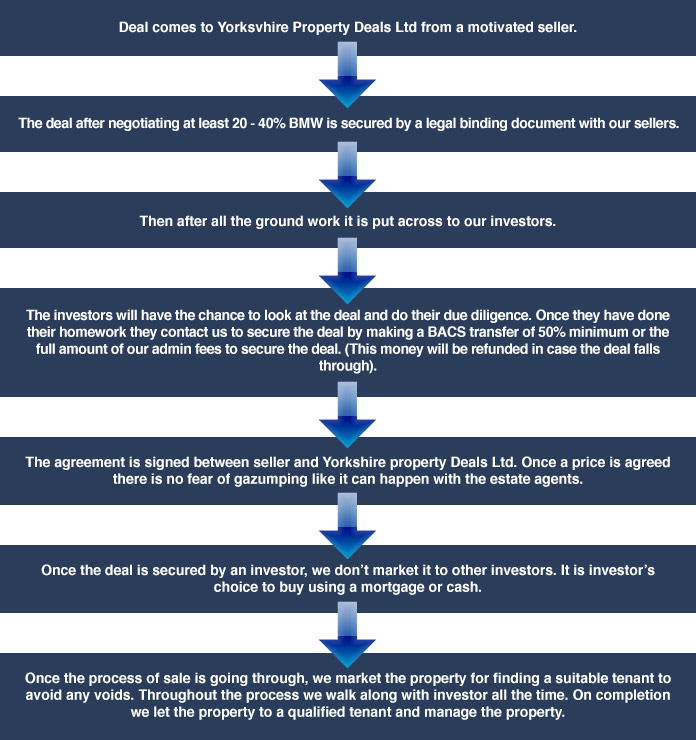 Before finally deciding how much to spend on a property, you need to be sure you will have enough money to pay for all the additional costs. These include:-
Survey fees
Valuation fees
Stamp Duty Land Tax. Since January 2010 this is payable on properties costing more than £125,000 and is at least 1% of the purchase price.
Land registry fee, stamp duty fee, local authority search, buyers solicitors costs and VAT will usually all be a part of the solicitor's fee.
Fees, if any, charged by the mortgage lender or someone who arranges the mortgage, for example, a mortgage broker fee. You will also have to pay an arrangement fee, payable to the bank or building society which provides the mortgage.
Removal expenses
Any final bills, for example, gas and electricity, from your present home which will have to be paid when you move.
What do you mean by BMV Property?
Below market value property is a property which we get from motivated sellers at a price which is below the prevailing market value. These properties can be 30% or more below the market value. Sometimes the value may not be significantly lower than the current value but will have a potential for escalation in future.
Yorkshire Property Deals employs its experienced staff to negotiate a deal and do a lot of the ground work before a property is displayed as a qualified lead on our website.
How can I get a BMV property?
Register your details as one of our investors. You must register before we can send you any property details as there could be sensitive information which will not be passed on to unknown third parties.
As soon as you have registered, you can view our property leads in our online shop.
When you find a lead you want to purchase, you simply contact us either over the phone 01274 297921 or by email info@yorkshirepropertydeals.com
You have the choice of paying either by cheque payable to Yorkshire Property Deals Ltd or contact us on the free phone or the mobile phone numbers provided to get details for money transfer through BACS.
When we have received your payment, the property lead is automatically removed from our database. We do not sell the same lead to multiple buyers.
It is important that the buyer acts quickly to secure the deal. We will intimate to the buyer the time frame in which to complete the purchase.
We cannot verify certain information about the property that we display on our website. In particular none of the services or fittings and equipment have been tested and we are unable to give warranties of any kind. The purchasers are advised to satisfy themselves as to the working order and condition.
The purchasers are advised to carry out a structural survey if they have any concerns as Yorkshire Property Deals will not be held responsible if any issues arise after their purchase. In particular for repossessed properties we strongly advise the buyers to do due diligence before they make their decision.
We only issue a REFUND if the contact details of the seller are incorrect or the property has been sold out within the time frame indicated to the buyer for completion.
WE WILL ISSUE A REFUND IN EXCEPTIONAL CIRCUMSTANCES if ….
The seller changes his / her mind about the BMV offer which they have agreed to consider. This excludes repossessed properties.
The seller has not provided accurate information of his financial status and encumbrance on the said property.
The sellers financial circumstances do not allow the acceptance of a BMV offer.
What is a qualified lead?
We sign a legal document called an option agreement where the seller agrees to sell his property to us for a certain amount within a specified time scale (usually 3 months). Once the value of the property and the time frame for the sale has been agreed this is termed as a qualified lead.
What are my charges for getting a below market value property?
We normally charge a nominal administrative fee which includes payment to our property finders and negotiators. The charges will be set by Yorkshire Property Deals Ltd and this will vary from between £2,000 and £12,000 depending on the value of the deal.
Can I get any help with mortgage or a solicitor?
We do not provide financial advice. Please contact an independent financial advisor for any financial advice. We have a team of mortgage advisors and solicitors whose service you can use and you will be dealing with them directly. However you may wish to use your own mortgage advisor and solicitor.
Joint ventures
Yorkshire Property Deals Ltd is happy to be involved in Joint Ventures with suitably qualified parties in property business. Please do contact us by e-mailing info@yorkshirepropertydeals.com
Cash investors
We provide an ideal opportunity for select investors. As you all know, the current interest rate a bank or building society provides is not very attractive. Please register your interest as cash investors and we will get in touch with you once we get a suitable property. Yorkshire Property Deals will accept investment through a solicitor for a fixed term only. Attractive interest will be paid at the end of the fixed term which in most cases will be 6 months. The total amount invested along with 6 months interest will be paid in full at the end of 6 months. A valid legal document with guarantee will be issued to the investor. Yorkshire Property Deals Ltd will qualify investors before accepting investments. Yorkshire Property Deals Ltd will accept only a small number of cash investors.
Where will we use your money?
Yorkshire Property Deals Ltd specialises in buying BMV properties and renovating BMV buildings. As a result of which even in the current climate property purchase buyers have significant equity. The money invested is therefore safe in any forthcoming property purchase.
How much can you invest?
Yorkshire Property Deals Ltd will only accept investments of £20,000 per person. The duration of investment will be for a minimum period of 6 months and a maximum of 1 year.